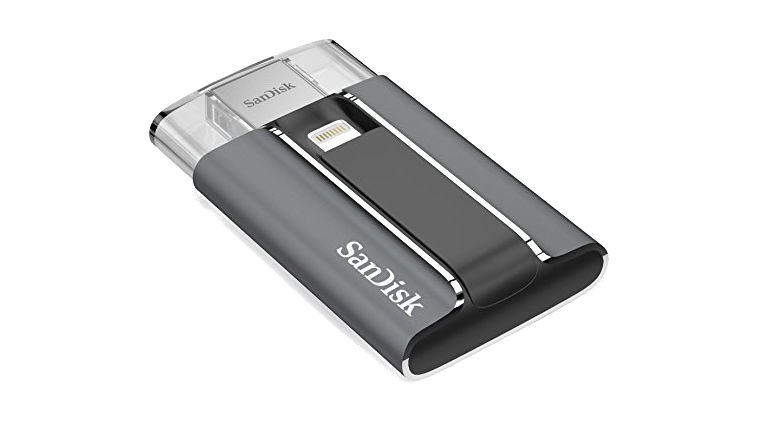 Trying to cash in on the boom in the amount of data created by mobile devices, Sandisk on Thursday announced a host of mobile memory solutions for the Indian market. Among the products launched are 200GB micro-SD cards for Android devices, iXpand Flash drives for iOS devices and Dual flash drive USB C-type connectors.
The iXpand flash drive will cater to iOS devices and offer up to 128GB extra space. The iXpand will come with a lightning connector as well as a USB a port to allow quick transfer of data between iOS and computers.
Interestingly, it will let iOS a users run all possible video types from the external drive itself. The codecs are loaded into the drive letting users to play from the drive and not the device. It can also convert formats that become playable in iOS devices and offers an easy way to sideload files into iOS devices. The drive works with documents and music along with video files.
The iXpand is priced between Rs 4,490 and Rs 11,490 for storage capacities between 16GB and 128 GB. It is also compatible with Apple's fingerprint reader and offers an extra layer of security for files. It comes with a built in battery to prevent battery drainage and to ensure optimum transfer rates.
The 200GB micro-SD card is a new high for the industry and are water, shock and magnet proof. With transfer speeds of up to 1200 photos per minute, the card was first showcased at the Mobile World Congress in Barcelona this year.
The SanDisk Ultra dual USB drive 3.0 offers easy transfer of data from Android phones with OTG capability to PCs and Macs at 130MB per second speeds. The device will be priced between Rs 1099 for 16GB and Rs 3049 for the 64GB.
The new dual flash drives with USB Type-C connectors will cater to new devices like the latest MacBook with these new ports. It will come with a maximum of 32GB storage.
The 16GB, 32GB, 64GB and 128GB iXpand flash drives variants are priced at Rs 4,490, Rs 5,990, Rs 7,990 and Rs 11,490 respectively. The SanDisk Ultra Dual USB Drive 3.0 costs- 16GB for Rs 1,099, 32GB for Rs 1,749 and 64GB for Rs 3,049.