For folks still using Yahoo! email, recent news from SxSW may be a vindication of sorts. Yahoo! has just announced it has released the source used in its new encryption browser plugin. The plugin will permit users to
easily
encrypt emails 'end-to-end' -- using OpenPGP -- and thwart a famously nosy agency -- known as the NSA -- at the same time.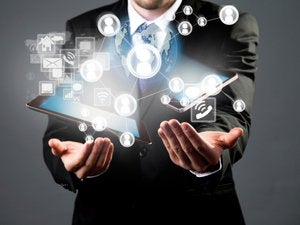 Mobile device management continues to broaden
Think 'enterprise mobility management,' which includes app and data security, among other things.
In
IT Blogwatch
, bloggers play keep away from the man in the middle.
Today's humble blogwatcher is Stephen Glasskeys.

Jeremy Kirk explains how unwarranted snooping has its consequences:
Yahoo released the source code for a plugin that will enable end-to-end encryption of email messages, a planned data-security improvement prompted by disclosures of U.S. National Security Agency snooping.
…
The company is asking security experts to look at its code, published on GitHub, and report vulnerabilities.

Passwords are Dante D'Orazio's personal hell:
Passwords are terrible: they're inefficient and they're often insecure, too.
…
That's why Yahoo is taking a new approach, called "on demand" passwords. When you try to sign in, you'll see a "send my password" button instead of a traditional password text box if you enable the system. The new sign-on method is available now.

Alex Stamos sounds like a proud papa:
At Yahoo, we're committed to protecting our users' security. That's why I'm so proud to share some updates on our latest security innovation: an end-to-end (e2e) encryption plugin for Yahoo Mail.
…
Just a few years ago, e2e encryption was not widely discussed, nor widely understood. Today, our users are much more conscious of the need to stay secure online.

Andrea Peterson shares a history lesson:
Yahoo has a history of being behind the times...it was late to roll out SSL by default for Web mail [only changing] after Snowden reports showed the the lack of the feature allowed the NSA greater ability to collect Yahoo users' digital address books than it could from other major providers.
…
But Stamos, who joined Yahoo a year ago, has been outspoken about user privacy and security, even going head to head with the director of the NSA in a heated exchange at a Washington cybersecurity conference last month.
[The encryption plugin] code is covered by Yahoo!'s bug bounty, and Stamos says the company also hopes that other mail providers will get on board. Google is already playing along in Chrome.
…
The Wall Street Journal reports that Stamos reminded those in the SXSW audience that content encryption won't protect users against having their [email] headers snooped, since you can't route a message if the address isn't in the clear.