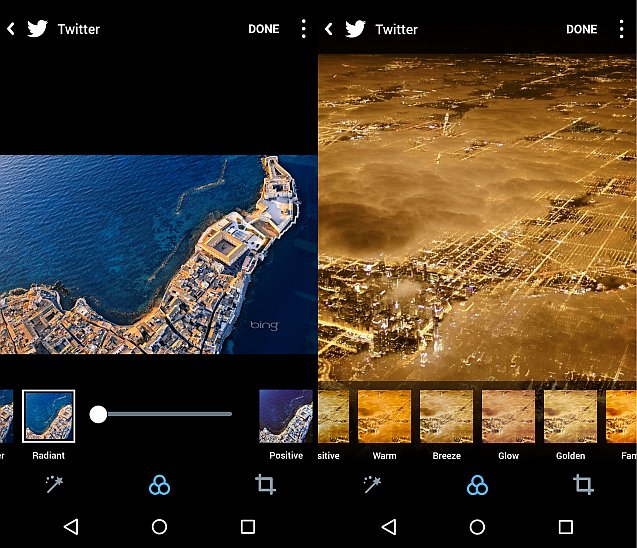 Microblogging website Twitter on Wednesday added a number of Instagram-style adjustable photo filters to its Android and iOS apps.
"We're rolling out new filters to spice up your photos. Download the latest Twitter for iPhone or Android to enjoy," mentioned the tweet posted by Twitter Mobile.
Filters can be accessed by tapping on the image after it has been embedded to a tweet. Double-tapping on the filter brings up the intensity scale slider of the selected filter, allowing users to adjust it to their liking. All old filters are now also adjustable. A total of eight filters are available on the Twitter apps, namely Radiant, Positive, Warm, Breeze, Glow, Golden, Fame and Stark, all of which can be adjusted separately.
Apart from ensuring users won't leave the app for their basic photo editing needs, the inclusion of new photo filters in the Android and iOS apps is be hoped to help recover some lost user engagement reported by Twitter in October this year.
Twitter notably introduced photo filters in December 2012.
Recently, TweetDeck, a social media dashboard app for managing one or more Twitter accounts, started allowing users to embed or attach multiple photos in a tweet - a feature that was introduced by Twitter earlier this year.
Twitter last month rolled out a feature that let micro bloggers share a public tweet through direct messages. It also added a support for sharing URLs via direct messages (DM), a feature that was previously halted as the firm was updating its backend and infrastructure.