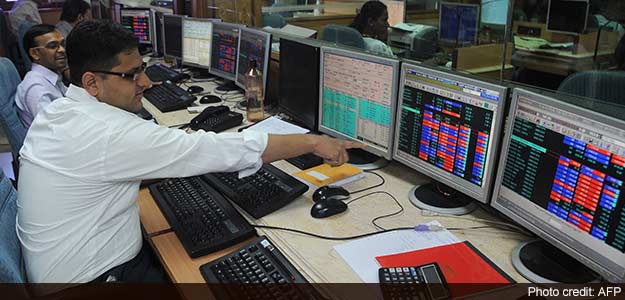 The Sensex jumped over 500 points to hit a record high of 27,894, while the Nifty gained 153 points to end above 8,300 for the first time. Indian stock markets have now gained over 7 per cent in the last 10 trading session and bulls seem firmly in control of the Dalal Street. The Sensex and Nifty were the best performers in Asia today after Japan's Nikkei, which jumped nearly 5 per cent.
Here are five reasons why markets have jumped in the last 10 days,
1) The Nifty opened at record highs today, but the big push came from
Bank of Japan
(BoJ), which stunned markets with new easing steps. BoJ's aggressive efforts to revive its economy augur for domestic investors as funds from Japan will move into emerging markets such as India, where yields are much higher.
2) BoJ's move comes a day after the US Federal Reserve ended its bond buying programme (called quantitative easing). The end of QE, six years after it started, is negative for India because it marks the end of the easy money policy that drove Indian assets higher. But the recovery in the US economy is good news for Indian exporters. The
IT index
has jumped 4 per cent in the last two sessions. IT stocks, which have a large weight on the Nifty, are the big drivers of the current rally.
3)
Foreign investors
are back to buying domestic stocks after a brief scare early this month. Over the last 10 days (October 20 to October 30), foreign investors have bought Indian equities worth
R

s.
3,818 crore. Barring January 2014, FIIs have not been net sellers in the equity market this year. Domestic institutional investors have also been net buyers of Indian equities since May 2014.
Infosys
hit its 52-week high today.
4) Renewed expectations of a
rate cut
as early as in December have given fresh legs to the rally. The continuous slide in global crude prices and diesel decontrol (announced earlier this month) are likely to have a big impact on easing inflation in the coming months. This also means greater pressure on the Reserve Bank to cut rates. Earlier this week, Finance Minister Arun Jaitley said "currently, interest rates are a disincentive. Now that inflation seems to be stabilising somewhat, the time seems to have come to moderate the interest rates."
5) The current market rally is co-terminus with the announcement of
reform measures
such as diesel control. Energy reforms have been followed by incremental reforms in other sectors. Last week, the government announced the opening up of the coal sector and on Thursday it eased norms for foreign direct investment in the construction sector. According to Moody's, the economic, fiscal and financial measures undertaken by the government and the RBI are expected to sustain higher growth and tackle constraints on the sovereign rating.