In India, a small car is always big news. And bigger if it comes from Maruti Suzuki. From the Maruti 800 to the Zen, from the Wagon R to the Alto, and from the Swift to even the Celerio, Maruti has barely failed with its small wonders. Among these models, one car truly stands out—a car which Indian two-wheeler owners aspire to own, a car which has sold over 2.6 million units in India since its introduction 14 years ago, a car which has remained for long the largest selling single model in India—the Alto. In fact, its value-for-money status has ensured the Alto virtually remained unaffected even after the launch, three years ago, of what is perhaps the best entry-level car in India—the Hyundai Eon.
So that the Alto is able to retain its class-leading position in the wake of getting-better competition, Maruti will launch the all-new Alto K10 next month.
Exterior
The good news is Maruti hasn't given the Alto a minor facelift, but a complete makeover. The not-so-good is the Alto K10 still doesn't truly stand out as far as exterior design is concerned. The front gets a tiny grille flanked by large swept-back headlamps with chrome inserts. Yes, the front stance appears wider than in the previous generation Alto K10 and looks unique, but that's where the story ends. The sides are more or less plain and the rear looks like that of the Alto 800's. However, large tail-lamps enhance the appearance of the rear section to an extent. The newly-designed outside rear-view mirrors (ORVMs) clearly show you the road behind.
Interior
The new car is 75 mm shorter in length, but smart engineering has ensured cabin space hasn't been compromised. (Okay, cabin space anyway wasn't the strong point about the Alto.) Because the new Alto K10 is taller and wider, you will find decent space around you. Mention must be made of the recesses at the back of front seats, which give rear occupants more space (about an inch-and-a-half extra).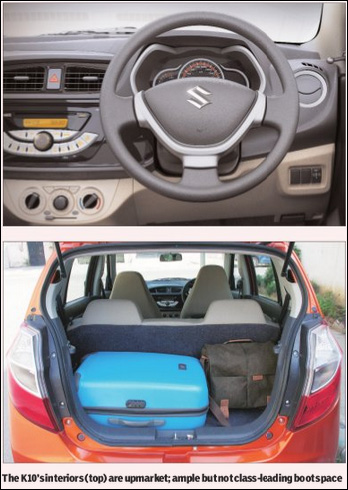 From the front seats, however, it is a whole new experience. The reworked dashboard feels a lot more premium, thanks to the new upholstery and the silver inserts in the curvaceous dual-tone dash. In fact, everything at the front—from the steering wheel to the audio buttons, from the door handles to even the armrest—feels plush for its class. Further,